Here is a sneak peek on the progress made on the custom work for Chapel in the Pines Presbyterian Church. This is a detail from one of the two pulpit ribbons.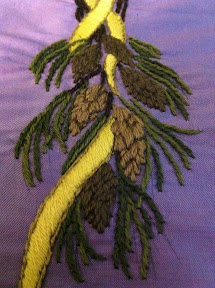 The pinecones represent the congregation, the ribbon - God's all embracing presence, and the open tail of the ribbon - (not visible in the photo above) that there is always room for more in the church community and they are welcome.
The parament design is anchored by the traditional 'IHS'.