On this sunny Fourth of July in North Carolina, I am spending part of the holiday watching a couple of classic patriotic movies (one if which is a painful revolutionary musical - not a winning mix!) :) and doing a bit of work... Part of my enjoyment in seeing the movies are the set designs and the portrayal of clothing, bedding and housegoods which were embellished with embroidery....
Okay... Let's fast forward to the late 1800's where Anastasia Dolby was one of the founders of the School of Art Needlework in 1872, which would later become the Royal School of Needlework. The school was a direct reflection of the social, cultural and political history of Victorian and Edwardian Britain.
Dolby attributed many of the designs in her book 'Church Embroidery, Ancient and Modern' to Mr. T. J. Burton. It is his design (I believe) that I have used on a piece of lavender dupioni silk, in which I have adapted by adding a variety of green tones for the palm branches and tiny french knots to fill the cross.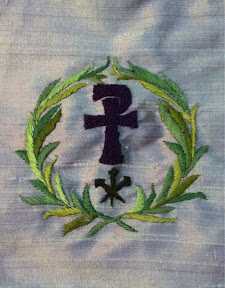 The book is sold on Amazon and the like, but is available online for free at Google Books. It is really worth a look at the lovely classic designs.